Dominican Republic – it's about the food
Even in the midst of unending natural beauty in the Dominican Republic, the unshakable truth remains that at some point we all must consume food; typically about three times a day. We were interested in the best places for dining in Puerto Plata, Dominican Republic, and set out to find them.
Each day began with a visit to the main dining room of the hotel Casa Colonial where we were greeted by the lovely Maria. Awaiting us were three primary breakfast offerings; the American, the Dominican and the Continental. Drawing from that well known saying: "When in Rome do as the Romans do" I ordered the Dominican breakfast because, well I was in the Dominican Republic.
First there was delicious hot coffee, a refreshing glass of orange juice and then came my Dominican breakfast. It had scrambled eggs, a few other components, and then something I had never experienced before. They call it Mangu, but I call it magic. Having no idea exactly what this undeniably delicious food was, I did some digging and here is what I found.
Mangu is a true Dominican dish made from green plantains. The ingredients are unripe green plantains, vegan (or not) butter, salt, olive oil, onion and the juice of a lime. Want to make your own at home: Just google "Mangu" for several recipes. Or even better, book your trip now for Puerto Plata, Dominican Republic, check into any of the many excellent resort hotels and then have a magnificent breakfast before heading out on your day of great adventure.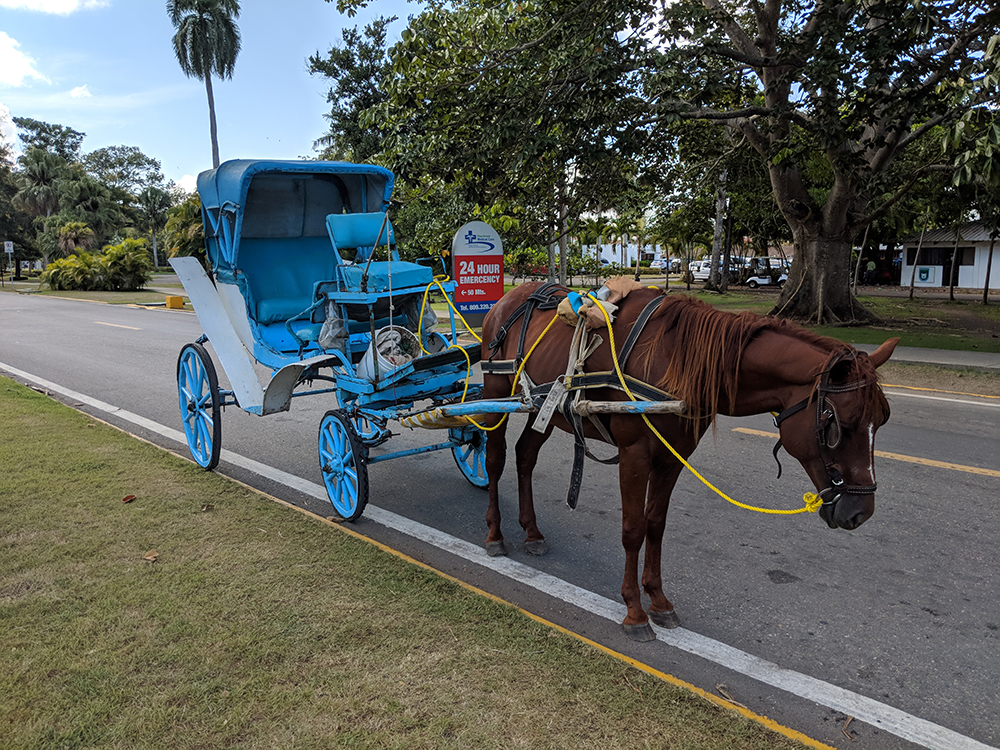 Whether of heading out for adventure or other activities, it is common in the Dominican Republic to hire a car and driver for the day. At first blush the cost may seem a bit high, higher let's say then a typical Uber ride, but then you will soon discover that your driver is not only 100% dependable but perhaps even more important, he will have extensive knowledge of the area which will prove to be invaluable. When evaluating the cost, typically around $50 for the entire day, it soon seems to be a very good value, a fact abundantly proven when we told our driver that we wanted to have a sea food lunch. He took us to La Ponderosa Del Mar in Puerto Plata, Dominican Republic.
As Juan Carlos Arvelo and I entered La Ponderosa Del Mar we simultaneously commented to each other "Wow! This place is authentically tropical island." Here, the atmosphere was perfect, but what about the food?
After extensively reviewing the menu we each settled on Caribbean lobster. This was no Maine lobster, it was instead a super delicious tropical Caribbean lobster grown, raised and harvested to a Merengue beat. Now I will make one point. Always keep in mind that while in the tropics, speed is not a common element. Yes, it did take some time for the lobster to be prepared and served but with our very first bite it became abundantly clear that it was worth the wait. Throughout my life I have been blessed with plenty of lobster, including freshly caught Maine lobster while visiting Maine. That was delicious, but what Juan Carlos and I had this day in Puerto Plata was truly the very best I have ever had. In fact, it was so good, that on its own, it could justify the trip. Fully satisfied, we departed La Ponderosa Del Marto to continue our days' adventure.
When our day of amazing sight seeing cane to an end, we asked our driver to take us back to the Casa Colonial Spa. We freshened up and then Juan Carlos Arvelo and I headed out and walked to the nearby shopping mall in pursuit of some interesting, good food. What we discovered was a huge surprise – there in Puerto Plata, Dominican Republic was an Italian Restaurant and Pizzeria, La Tarappa. I mean come on, we were in the Dominican Republic, in the tropics on a beautiful island in the Caribbean and pizza – really? I figured, oh heck we are 3000 miles closer to Italy than where we live so maybe it will be something good. In fact the pizza we had at La Tarappa was absolutely beyond question the very best pizza I have ever had, including some I enjoyed in Italy. A very delicious and happy surprise discovered during one more awesome day in Puerto Plata, Dominican Republic.
The next day Juan Carlos Arvelo and I were looking for a place to enjoy lunch. Walking around the small shopping mall near our hotel, we were amazed to find a sports bar that looked very much like one would expect in Los Angeles or New York or Chicago. The walls were covered with celebrity autographed guitars, gold and platinum records and photographs of virtually every major pop music star from Elvis through the Beatles and beyond. The name of the place is Senor Rock Sport Bar & Grill and it is located in the small mall close to the Casa Colonial Spa and Resort. Oh and their food? I can't speak for Juan Carlos but my beef dip sandwich was a total joy.
For even more information about the truly amazing Dominican Republic check out these social media options:
Facebook: @DominicanRepublicTourism.
Instagram and Twitter: @GoDomRep.
Hashtags: GoDomRep.