Destination Kohler welcomed the return of Winter Wonderland on December 2, 2022. The pop-up winter extravaganza offers a variety of fan-favorite winter activities, and a cozy warming shelter with a hot chocolate bar all in one location! You can sit in the warming shelter, and help yourself to the hot chocolate bar or homemade hot cocoa and whipped cream.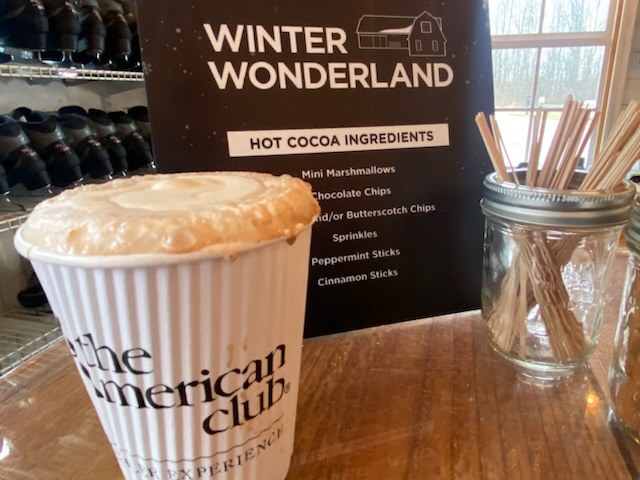 Winter Wonderland is open from the first weekend in December through the end of February every Friday, Saturday and Sunday. Destination Kohler's 2022 Winter Wonderland offerings include:
-5,400 Square Foot Ice-Skating Rink
-Bavarian & Olympic Curling
-Cross Country Skiing
-Snowshoeing
-Fat Tire Biking
Access fees will be $28 for the first guest in a group and $10 for each person thereafter. Season passes are also available for $125 per individual, $200 per couple, and $300 for a family of three or more. Children five years and under are complimentary. Purchase of an access pass allows the use of all activity equipment on a first-come first-serve basis.
On-Site Activities:
-Enjoy ice skating, cross-country skiing, fat tire biking, curling, snowshoeing and hockey all in one location.
Walk-up window for contactless admission, concession and skate pick-up is available.
-5,400 sq ft ice-skating rink with chiller system to allow for early season skating.
-Curling lanes located in a non-heated barn to protect participants from the wind while enjoying their game
-Private party room available for rent. Please contact Ab************@Ko****.com to book.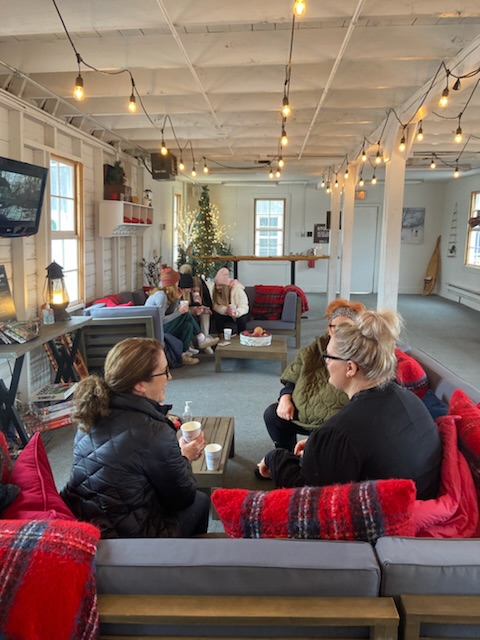 Winter Wonderland is a very enjoyable, storybook experience during the winter months. It is a great way to give people of all ages a space to participate in a variety of fun, outdoor winter activities. However, you definitely need snow for cross country skiing, which I had hoped would have been available when my guest and I visited. Since there was no snow, we decided to try fat tire biking, which was a lot of fun! We hopped on the rugged bikes, and pedaled on the looped pathway several times near the warming station. It was a new and interesting experience to ride and maneuver a fat tire bike, which was not easy to use.

When we felt tired and cold, we made our way into the cozy warming station, run by the wonderful attendants, Suzy and Brooklyn. The two fixed us up with some delicious, gourmet hot chocolate and whipped cream. Even better, there was the option of having the hot chocolate spiked with a few different choices of whiskey! We sat down with our drinks and sipped away in cozy chairs watching the movie, Elf.

When we were ready to go back outside for more fun, we each grabbed a pair of ice skates (you could choose from hockey or figure skates), and made our way to the ice rinku. The surface of the ice was pretty rough, but we still did our best to glide around, even if we were both very rusty at skating. There were some hockey sticks at the side of the rink, as well as a few pucks hanging out on the ice. We took some shots at a small goal that was set up.

Overall, I would definitely recommend Winter wonderland to anyone looking for a little outdoor adventure at a very reasonable price. The facility and equipment were very enjoyable, though the ice rink might benefit from some smoothing out. The staff was very kind and accommodating, and snapped our picture with a modern day Polaroid to capture the joy we had during our visit. I enjoyed my time there and think you will too!
For more information, please visit the website.
Location: 4800 Erie Avenue, Kohler, Wisconsin 53044
Hours of operation:
Fridays 3:00 – 7:00 PM
Saturdays 11:00 AM – 6:00 PM
Sundays 11:00 AM – 5:00 PM
Monday-Thursday: Closed
Photos: Destination Kohler and Jennifer Lunz