By Gerry Barker
Pam and I just finished a seven-day voyage to the Eastern Caribbean on Holland America's New Statendam, which launched in 2018 as the second entry in their Pinnacle Class. It was the first time for us to cruise with the Holland line, which is celebrating their 150th year of service. Our seven-day voyage would travel roundtrip from Ft. Lauderdale to Grand Turk, Puerto Rico, St. Thomas and Half Moon Cay. We found a lot we liked about the ship and Holland's brand of cruising. Here are our top 10:
The Size

Nieuw Statendam (this is the sixth ship in their fleet to carry this title) is classified as a medium size ship, accommodating 2,666 guests at capacity. For this cruise, we were actually two percent over capacity, pushing us toward 2,700. It doesn't take long to find your way around its 12 main decks, with most of the action taking place on decks 2 and 3, the location for the World Stage auditorium, the Main Dining Room, the Music Walk, featuring venues named for Billboard, B.B. King, Rolling Stone and Lincoln Center, plus the shops. Overall, like Goldilocks, it's not too big or too small, but seems just right.
The Beautiful Artwork

Holland didn't skimp on making this ship beautiful — walk the hallways and public areas and view paintings, photographs and sculptures valued at $4 million. The overarching theme is music. There are four decks named for musicians: Beethoven, Shubert, Gershwin and Mozart. Pam — a huge music lover — made it her mission to capture the dozens of artworks depicting musical instruments and themes throughout, which she published as an album on her social media accounts. On some decks, musical notes are etched into the carpet. Art aside, the ship itself is beautiful. The first five Statendams would be proud.
The Food
While we enjoyed the Main Dining Room, it's the specialty restaurants on Nieuw Statendam that really stand out, starting with Rudi's Sel de Mer, the French Seafood (and steak) Brasserie, named for Rudi Sodamin, who oversees all aspects of Holland's shipboard dining. There's a $49 surcharge per person, but it's worth the experience of enjoying a five-star meal. A close second is the Pinnacle Grill ($39 per person), and for Italian lovers, Canaletto ($19 a person) was also a standout for us. But our favorite was Tamarind ($29 a person), serving Pan-Asian cuisine. Located on deck 10, it's dark and Zen-like vibe immediately won us over, and the dishes are both wonderful and artfully presented (don't miss the Crispy Duck). Adjacent is Nami Sushi, where you can watch them prepare your favorite raw fish rolls. We should also mention the bar at Tamarind quickly became our go-to spot for a drink. Quiet, dark, and the bar hostess knows her way around a martini.
The Focus on Learning

Holland places a high value on learning opportunities while aboard their ships. Sure, you'll find plenty of chances to play trivia, bingo and Mahjong, but you can also learn how to fold origami, attend Coloring for Adults and lectures on topics that range from "The Deep Blue" to "Islands of the Mind." While on the cruise, Pam learned about flower arranging from the man who maintains all 135 floral displays on the ship. The first night's show also traced the 150-year history of Holland America, which provided some fascinating insights into how the company survived world wars and the Depression to be where they are today. Each lecture is accompanied by multimedia video and graphics, so talk about making learning fun.
The Music Walk
Grouped on deck 2, Holland America has partnered with some iconic music brands to present live music in the Rolling Stone Rock Room, Billboard Onboard, B.B. King's Blues Club and the Lincoln Center Stage. This is probably the most popular area of the ship, and always draws a crowd. There is a music genre to please everyone, including afternoon classical performances in Lincoln Center. Our favorite was B.B. Kings, where the B.B. King All-Stars delivered electric rhythm and blues performances. The music often runs to midnight, and dancing is encouraged.
The Orange Party

One night on every cruise, the ship stages The Orange Party. Being Dutch, the party gets its name from the Netherlands' ruling royal family, who hail from the House of Orange. Guests are encouraged to dress in orange, and the staff does the same. Held in the B.B. King Blues Club, the adjacent shops will sell you orange wearables, and someone was handing out bracelets and necklaces that glowed orange. All the band had to do was break into Kool and the Gang's "Celebration" and the dance floor was jam-packed.
Onboard Connectivity

We have had so many bad Internet connections at sea, we have to do a shoutout when we find a service that actually works, and works well. It seemed regardless of where we were throughout the voyage, we had good signal strength. Of course, you pay for it. We opted for the premium service, which allows for up to four devices to be connected, and it was around $300 for the week. As a travel writer, it's a must.
Half Moon Cay

This is Holland America's private island in the Bahamas, also known as Little San Salvador Island, and it's gorgeous. After a 10-minute ride on a tender, you are free to explore on your own or take one of their shore excursions, which included horseback riding in the surf. We headed for the crescent-shaped beach that is its namesake, found a chair in a thatched-roof bar and had as drink while admiring the pure white sandy beach and striking blue waters. There were plenty of loungers on the beach, but no umbrellas (there are cabanas that go quickly), so the bar is an ideal place to chill. Later, the ship hosted an Island BBQ with all the fixings. Have your camera at the ready for those selfies — your friends back home will be drooling.
The Cruise Director and Captain

The ship's cruise director, Gage Griffin, looks every bit of 16, and could probably pass for younger. But don't let his age fool you — the Louisville native is a total professional who keeps everything on track and presents the ship's expert lectures. Many guests try to guess his age, but he makes them wait until the end of the cruise to find out. (If you want to know, I'll be publishing an interview with him soon). The ship's captain, Eric Barhorst, has a great sense of humor that we found engaging. During the Captain's Talk, where he takes guests on a behind-the-scenes tour of the ship, he was wearing one red sock and one green. Why? "So I can tell starboard from port."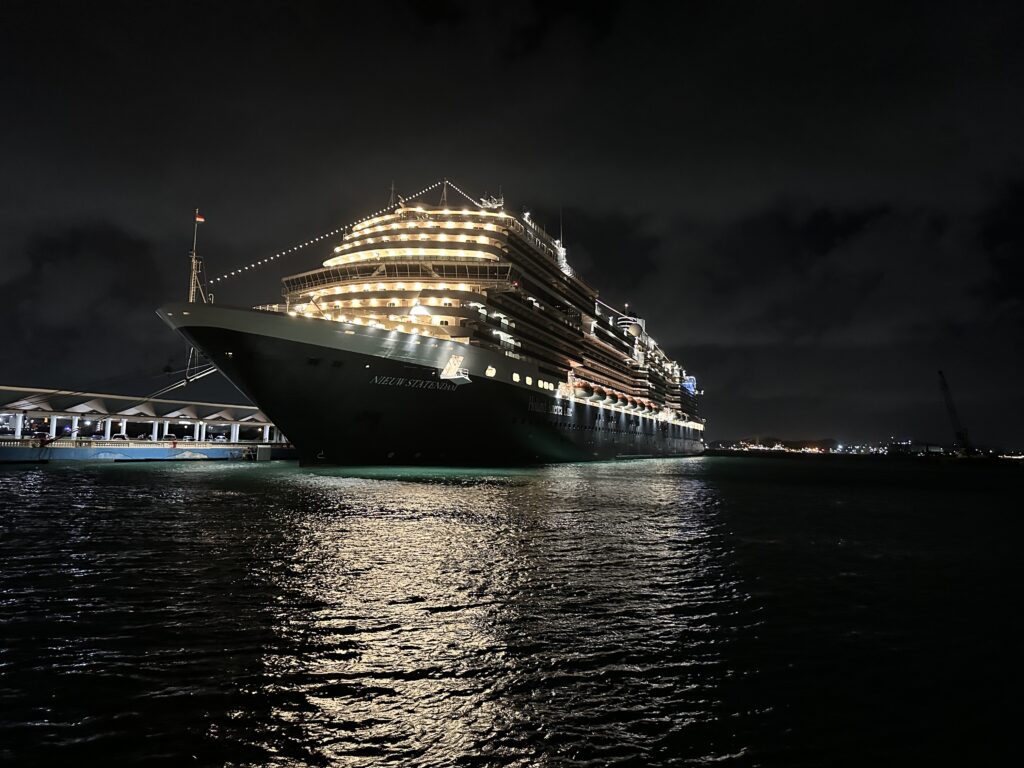 The Tours and Disembarkation

One thing we appreciate when going on a shore excursion is oranization. If you don't have staff in place to direct where you need to be, especially when there are multiple ships in port, it can be so frustrating. We give Holland high marks for how they deploy their staff in this regard. It was especially helpful in Puerto Rico, where there were several other large ships visiting.
Getting 2,700 people off a ship can be challenging, for both staff and guests. But ours was among the smoothest we encountered. While waiting for our luggage tags to be called, we had a leisurely breakfast in the Main Dining Room and after a short stay in our stateroom, walked off without any waiting. In the terminal, they were using Facial Recognition at Customs (thank God), and in minutes we were outside waiting for our Uber. Well done, Holland America. I can see there's a good chance you'll be around for another 150 years.
Photo credit: Gerry Barker